Yin Yang Yoga
This class is taught by: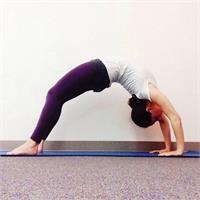 Brittany Bowdish, E-RYT 200® and YACEP®, completed her 200 hour RYT certification at Lincoln Yoga Center. Brittany was trained in Hatha Yoga through the lineage of The Himalayan Institute. Her specialties include yin yoga and restorative yoga (trained by Melanie McLeod). Brittany has been teaching yoga since 2012.
What to expect in Brittany's classes and workshops? Brittany believes you shouldn't take life too seriously so a little fun is always sprinkled in while exploring the safest alignment in a posture, opening our hearts, and quieting our minds.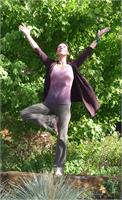 Joettes warm and welcoming style will invite you to stretch,strengthen,balance,move energy,release stress and tension, and cultivate peace and joy you can take with you back into the world. Her classes weave together the foundations of the basics with an interplay of body and mind, focus and flow,and strength and flexibility. While it's important to explore ones edge, she feels it's imperative to nurture a sustainable and balanced practice that will last a lifetime. She hopes to help students remember to pause, breathe, and take a look inside continually returning to the present experience.
Joette began her relationship with yoga in 2005- became certified in 2007- 200 hr. level.
She is working towards her 500 hr. level with Tias Little and Sarah Powers- Insight Yoga- a synthesis of traditional yoga, meditation, and eastern approaches to healing and well- being.
Blessed to study with many inspirational teachers, she feels that yoga itself is the ultimate teacher both on and off the mat... and a key lesson is to keep a sense of humor!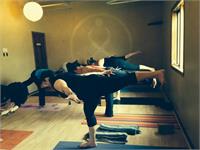 As a consummate student, Teresa is in a constant state of becoming and as such, she believes in the transformational process that resides within all of us. In addition to her bead creations, and workshops, she is a yoga instructor who obtained her 200 hr and 100 hour certifications through Yoga World Reach. Teresa has attained BA in English and Religion respectively. Through her many paths, Teresa discovered the undertone to her purpose has always been, how can I help, what can I learn and how can I teach it?
A blissful blend of warming and cooling poses to leave you feeling balanced.
Upcoming classes: