Teresa Miner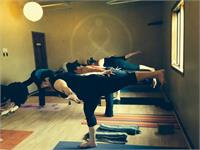 As a consummate student, Teresa is in a constant state of becoming and as such, she believes in the transformational process that resides within all of us. In addition to her bead creations, and workshops, she is a yoga instructor who obtained her 200 hr and 100 hour certifications through Yoga World Reach. Teresa has attained BA in English and Religion respectively. Through her many paths, Teresa discovered the undertone to her purpose has always been, how can I help, what can I learn and how can I teach it?
Teresa Miner instructs the following:
All Levels offers students the opportunity to practice in a multi-level setting. The instructor will offer variations so that students may choose the level of difficulty of depth most appropriate for themselves. An eclectic yoga class, the teacher will sometimes lead a flow style vinyasa (linking movement with breath), other times there will be hatha (the yoga of opposing forces), or yin (more passive poses targeted at stretching the body's connective tissue). Postures are performed mindfully with an emphasis on proper posturing, relaxation, and breathing.




This all levels class in designed to stretch and strengthen the body gradually. We will utilize gentle yoga stretches combined with a slower vinyasa style flow, to give you time to explore deeper stretch in each posture, while you build proper alignment. We will also explore props and modifications, to help you deepen your understanding of each pose.




Slow-paced yoga with poses held for comparatively long periods of time. This class is targeted to stretch fascia, the body's connective tissue.




Studio 2 Entrance. Align and Restore is a 75 minute class using props, gravity and breath to align and open the upper back, shoulders, lower back and hips. Safe, intelligent postures practiced slowly and with inquiry teach us how our bodies are meant to move. A wonderful way to release at the end of the day and to start the week with greater comfort and efficiency of movement. Suitable for pregnant women.