Hot Yoga
This class is taught by: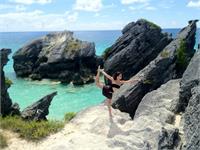 Ella has been practicing Yoga for 10 years. Originally from Nebraska, Ella studied Classical Dance in New York City at NYU and Alvin Ailey Dance Theatre. Through her time at Omega Institute and Kripalu, as well as her own practice at Modo Yoga, Jivamukti, Pure Yoga, Laughing Lotus, Om Factory, Strala, and others in New York, Ella has come to understand the importance, beauty, and benefits of Yoga on a global level.
Ella has had the pleasure of traveling the world working with Olympians, celebrities, professional athletes, and public figureheads to better minds and bodies. Ella also works as a business consultant and entrpreneur, and has facilitated the openings of several nationwide studios over the past 8 years. Her works have led her to receive offers from Biggest Loser as a trainer, Workout NY (Bravo) as a fitness professional, and America Ninja Warrior. Although TV was not her desired path, Ella has enjoyed sharing her passions as a wellness pioneer through publications in New York Times, Good Morning America, Vogue, New York Magazine, Glamour Magazine, and more.
Ella teaches Yoga, Pilates Machine and Mat, Cycling, Ballet, Barre, and low-impact rehabilitation training to all skills levels and ages. In her free time, you can find her playing with her children (Prudence, Hudson, and stepson Will) or cheering on the Southeast Varsity Tennis teams alongside her husband and coach Chris.
Hot Yoga is held in our heated studio at a temperature of 90-100 degrees. Come practice in this warm, challenging setting. This class is perfect for anyone interested in deepening their practice with a challenging and fun hour-long class.