Yoga and Mindfulness for tween/teen
This class is taught by: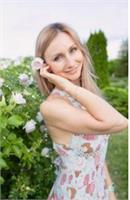 I was first introduced to yoga in 2010, when my family and I moved to the United States from Belarus (Eastern Europe). I fell in love with yoga right after my first class. Soon, I realized that yoga for me is more that just a workout. It was the lifestyle that really resonated with me and felt organic. After a few years of practicing yoga, I decided that I would like to share my knowledge of yoga and passion for it with other people. I graduated from the 200-Hr Yoga Teacher Training through Lincoln Yoga Center. Since graduating, I have been teaching yoga at a few public places and studios here Lincoln. I like to incorporate Vinyasa flow into my classes, with prolonged holding of some postures which is great for strengthening and stretching deep muscles of the body. Also, I like to include balance poses that are wonderful both for balance and might. My goal is to provide safe practice that nourishes you with energy and strength as well as releases stress and tension. I hope that this approach will bring people peace and joy that overflows into their daily life. I am very interested in continuing my yoga education and development. I am currently working on my 500-Hour certification and always on the lookout for various workshops and trainings. Some of my favorites that I have recently attended include Restorative Yoga Certification and Yoga for Kids Workshop.
Yoga and Mindfulness for Preteens and Teens series is aimed to introduce preteens
and teens (ages 9 - 15) to the powerful benefits of practicing yoga. With regular
practice, yoga can improve concentration, reduce stress, increase overall body
strength and tone, improve self awareness and self confidence, and is great for a
young athlete.
Our classes will include:
• pranayama (breathing exercises) for focus and relaxation;
• yoga poses in Vinyasa Flow to stretch, strengthen, improve balance and posture;
• mindfulness techniques to create mind-body connection;
• relaxation in Restorative Yoga poses to calm their minds and nervous system; and
• guided meditation to develop peace of mind and overall balance in daily life