Yin Yang Yoga
This class is taught by: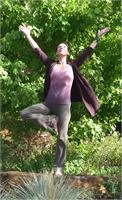 Joettes warm and welcoming style will invite you to stretch,strengthen,balance,move energy,release stress and tension, and cultivate peace and joy you can take with you back into the world. Her classes weave together the foundations of the basics with an interplay of body and mind, focus and flow,and strength and flexibility. While it's important to explore ones edge, she feels it's imperative to nurture a sustainable and balanced practice that will last a lifetime. She hopes to help students remember to pause, breathe, and take a look inside continually returning to the present experience.
Joette began her relationship with yoga in 2005- became certified in 2007- 200 hr. level.
She is working towards her 500 hr. level with Tias Little and Sarah Powers- Insight Yoga- a synthesis of traditional yoga, meditation, and eastern approaches to healing and well- being.
Blessed to study with many inspirational teachers, she feels that yoga itself is the ultimate teacher both on and off the mat... and a key lesson is to keep a sense of humor!
Upcoming classes: