Lynne Knutzen-Young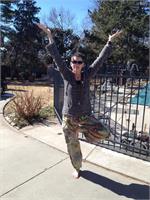 The first yoga class I took was fifteen or so years ago. I wasn't sure at that point what to think about yoga. Over the years, I continued to practice at different studios and in 2013, decided to gain a deeper understanding of yoga and take the 200 hr. teacher training at Lincoln Yoga Center. This is when I realized yoga was more to me than just a form of exercise. I delight in sharing my knowledge with friends, family and anyone interested in learning more about this ancient practice. My journey continues as I apply all aspects of yoga to my everyday life.
Lynne Knutzen-Young instructs the following:
Beginners Yoga is all levels of students who are interested in taking a beginner-level pace and practice. All skill levels welcomed.




Meditation and Movement: a class for all levels.