Amy Sauer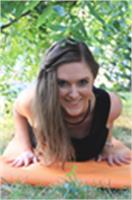 Let's be honest. Amy began her yoga journey the way a lot of people do: not in a studio or fitness center, but in front of a "Yoga for Beginners" VHS tape in her parents' basement. But as the world moved from VHS to Wii Fit, she was moving on, too, finding inspiration in Vinyasa Yoga and a flesh-and-blood teacher in Judi Olivetti.
After studying with Judi for a life-changing 3+ years, she completed a YogaFit training and began teaching her own classes in 2009. Then, in 2011, she completed the 200-hr. "Inner Power Yoga" training at Yoga, Body & Balance with R.R. Shakti of Yoga World Reach. She has also attended intensive workshops with Christy Burnette (Anusara), Thomas Radke (Anatomy), Donna Farhi (Restorative), Lisa Giroux (Iyengar), and most recently, Aadil Palkhivala (Purna Yoga).
Thanks to these teachers and many others, Amy's yoga philosophy is constantly evolving. At the moment, her passion is for teaching beginners and those that prefer a gentle, flowing class. Amy likes her classes to be fun and playful, yet very breath-centered and mindful, so that practitioners can have the opportunity, one breath at a time, one day at a time, to liberate themselves from stress, tension, tightness, unproductive thoughts, emotions, etc., and can leave class feeling like whole, radiant human beings.
Amy lives in Lincoln. Off the mat, Amy is a writer and educator; she works as a Mentor for the Highly Gifted in the Lincoln Public School District and loves sharing her enthusiasm for Language Arts with her students.
Amy Sauer instructs the following:
The rope wall is fun approach to practicing yoga asana because the ropes allow for students to understand how muscles are used in each pose in a different way than they know from a normal floor practice. This class is a mixture of basic, strengthening, and restorative poses and offers a great introduction to Iyengar-based alignment.