Amy Bidrman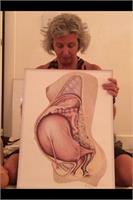 I started practicing yoga after my second child was born. Asana practice embodied so many of the thoughts and feelings that early parenthood brought up in me and was incredibly reassuring. As a new parent I was learning and living the first two limbs of yoga, the Yamas and Niyamas which form the structure of practice on and off the mat. These qualities will always guide my teaching: non-harming, truthfulness, purity, non-grasping, contentment, learning through self-experience and a devotion to the divine in all beings.
I have been a childbirth educator since 1999, and took my first yoga training and started teaching pre and postnatal yoga in 2005. I took another training in 2008 with Yogrishi Vishvketu and continued to teach and to lead teacher trainings in pre and postnatal.
Find out more about Amy at www.amybidrman.com
Amy Bidrman instructs the following:
All Levels offers students the opportunity to practice in a multi-level setting. The instructor will offer variations so that students may choose the level of difficulty of depth most appropriate for themselves. An eclectic yoga class, the teacher will sometimes lead a flow style vinyasa (linking movement with breath), other times there will be hatha (the yoga of opposing forces), or yin (more passive poses targeted at stretching the body's connective tissue). Postures are performed mindfully with an emphasis on proper posturing, relaxation, and breathing.




Prepare your mind and body labor and delivery. This class gives expecting moms a chance to nurture themselves in a safe environment. Great for reducing the amount of aches and pains that come with pregnancy. Breath-work will create a calming environment for your baby to grow.




Studio 2 Entrance. Align and Restore is a 75 minute class using props, gravity and breath to align and open the upper back, shoulders, lower back and hips. Safe, intelligent postures practiced slowly and with inquiry teach us how our bodies are meant to move. A wonderful way to release at the end of the day and to start the week with greater comfort and efficiency of movement. Suitable for pregnant women.