Courteney Turner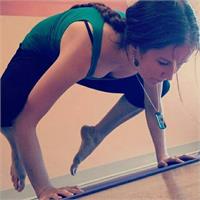 Courteney Turner instructs the following:
Kid's Yoga Program | Fall Session | 6 Weeks | $60 | Ages 4-8. Join Courteney and Sheila on Mondays from 4:15-5:00pm. Through yoga poses, fun storylines, and calming exercises your child will build confidence and build positive friendships! When registering, you are automatically signing up to all 4 classes within the session. We look forward to seeing your little one soon!

Children learn to:

Manage stress, develop positive behavior reactions, and create climates of positivity.
Build group cohesiveness and positive group relationships.
Develop interactive positivity, self-awareness and self-responsibility.
Learn techniques to self-regulate behavior and emotions

Develop peace and stillness in the midst of chaos.
Improve confidence and self-esteem.




Beginners Yoga is all levels of students who are interested in taking a beginner-level pace and practice. All skill levels welcomed.




All Levels offers students the opportunity to practice in a multi-level setting. The instructor will offer variations so that students may choose the level of difficulty of depth most appropriate for themselves. An eclectic yoga class, the teacher will sometimes lead a flow style vinyasa (linking movement with breath), other times there will be hatha (the yoga of opposing forces), or yin (more passive poses targeted at stretching the body's connective tissue). Postures are performed mindfully with an emphasis on proper posturing, relaxation, and breathing.




Gentle Flow is a class designed for all levels of practitioners interested in moving through gentle postures and breathing practices. This class is suitable for beginners, though all students are welcomed to join.




The rope wall is fun approach to practicing yoga asana because the ropes allow for students to understand how muscles are used in each pose in a different way than they know from a normal floor practice. This class is a mixture of basic, strengthening, and restorative poses and offers a great introduction to Iyengar-based alignment.




Sunday Nov. 4th 1-3:30PM $35 Studio 1

Ayurveda is the science of life. It is an ancient system that is still used in India and southeast Asia today. You will discover your own unique dosha, or constitution and also the doshic seasons and times of day. Then we will put it all together and create our own dinacharya, or daily self care routine completely personalized for your dosha and lifestyle to help bring you into balance. Dress comfortably as we will practice various yoga poses for each dosha.